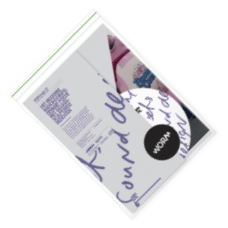 WORM Horspil - #20 – Het Moderne Radiohoorspel ervaart Poezie met Geluidssculpturele Inzichten
4 experiments in abstract radiophonics. For each piece, curator Lukas Simonis brought together a poet and a sound designer, with the idea that the often abstract language of poets connects better with abstract soundscapes than that of novelists.
Bij het Eerdere (14:20) by ACG Vianen and Peter Wiesenthaner / Lloyd (13:24) by Didi de Paris and Anne Wellmer / Vankariem (13:49) by Han van der Vegt and Sasker Scheerder / De Hartmann Roede (27:00) by Dirk Vekemans and Henk Bakker.
Medium: CD
Related Products