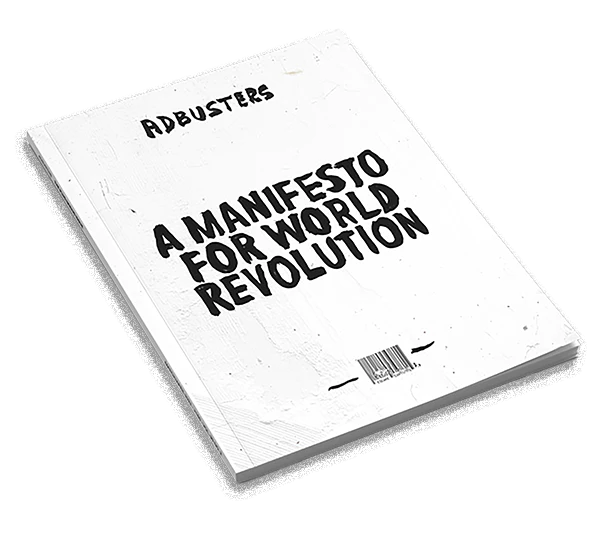 Adbusters - # 169: A Manifesto for World Revolution
Can we brainstorm globally? Learn to act as one? Work our way out of the existential fix we're in and begin a new chapter in the human story? Look in the mirror. See if you still have some fire in your eyes.
Aesthetico
We make the straight line wobble
Politico
we upend the current world order
Corpo
we kill a corp
Eco
we make the price of every product tell the ecological truth
Econo
we move from economics to bionomics
Capitalismo
we reverse the money flows
Psycho
we launch the mental liberation front (MLF)
Adbusters is one of a handful of magazines in the world that receives zero funding from advertising, corporate sponsorship or government/foundation grants. They are entirely reader-supported so every dollar raised through sales goes directly back into their campaigns and the production of the magazine. When you buy Adbusters, you are joining a network of artists and activists committed to speaking truth to power without reservation.
"Analysis, inspiration and sexy 'overn-ready' campaigns in this latest fantastic offering from our friends at Adbusters." (Dr. Gail Bradbrook, co-founder of Extinction Rebellion UK)
Publisher:
Adbusters
/ 169 - a manifesto for world revolution
Medium: Magazine
Related Products