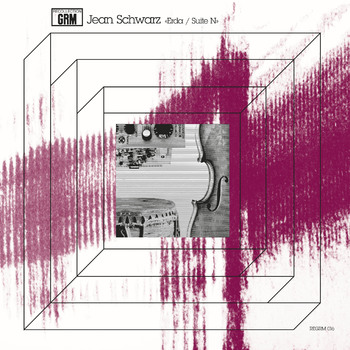 Jean Schwarz - Erda / Suite N
Electronic composer Jean Schwarz in two large works composed in the Ina GRM's numerical composition studio exploring exaggerated amplification, inversion and transformation.
Erda (1972)
"This piece illustrates my early research carried out in a professional composition studio. After studying every available tools and creating variably hybrid connections between them, I chose to compose several short sequences, each being the expression of a research based on a sonic manipulation and exploring a well defined sound hue. Besides, my background as a percussionist and a jazzman encouraged me to conduct a rhythmical study in each of these sequences."
The seven movements include "an evocation of the realm of insects," "stereotypical bird songs produced by the generators of the studio 54," "a tribute to the Goddess of Wisdom and the Earth in Wagner's Das Rheingold and Siegfried," "rhythmical drumming figures such as those Kenny Clarke (aka Klook) used to teach me," and "a tribute to John Coltrane," among others.
Suite N (1982)
Commissioned by the Direction de la Musique and the Ina GRM.
Composed in the Ina GRM's numerical composition studio with the assistance of Benedict Maillard and Yann Geslin.
My intention in « SUITE N » was, on the one hand, to use solely sounds produced by the computer either by direct synthesis (With the MUSIC V program, GRM's PDP 11 computer could synthesize sounds from any instrument) or by sound treatment, and, on the other hand, to work with a definite form.  A, B and C correspond to the exposition of the themes. A' B' and C', to their variations. Each of the nine families of sounds represents a different instrument. Once the musical lines are established, they are re-used, together with their variations, in the development of the piece.
Medium: LP
Related Products